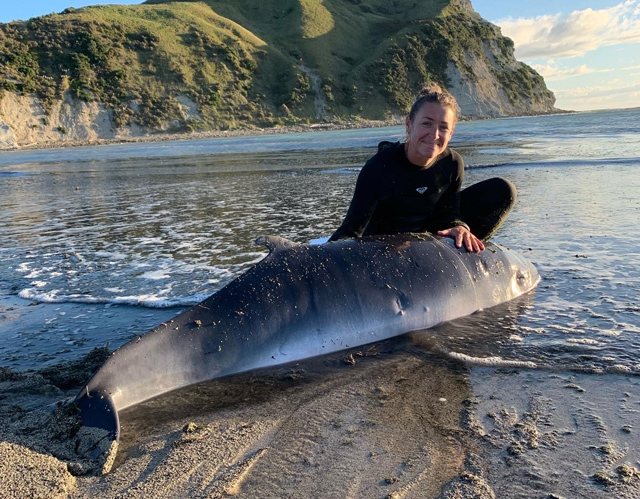 22 May 2022
I was on holiday in Mahia and became aware of a local stranding on Mahia beach via the community facebook page… I knew my Marine Mammal Medic Training was about to be put into practice!
Having loaded the list of essentials in my phone after the training, I was able to quickly grab what I needed and hit the road. Upon arrival at the beach and assessing the situation, I was able to put my training to use, starting with a call to the DOC HOT line to report the stranding.
A juvenile pygmy sperm whale had stranded. Thankfully I was quickly joined by two surfers eager to lend a hand. We kept the whale cool with sheets and buckets of water, remembering to keep calm and quiet as to not stress the whale more. Luckily it was an incoming tide and after an hour we were able to get the whale re-floated. Unfortunately upon releasing the whale, it only managed to swim a couple of kilometres down the beach before re-stranding again. The heart breaking but humane decision was made by DOC to euthanise the whale, due to its poor condition and stressed state.
Just when I thought the evening was done, reports of another whale stranding further down the beach came in. An adult pygmy sperm whale had since become stranded and thankfully a team of us managed to get it re-floated with the favourable tide. Exhausted and teary, I was incredibly grateful to have the knowledge of the Marine Mammal Medic training. I was able to approach the stranding calmly and with the tools to help these whales the best I could, with the support of community members. It wasn't something I was sure I would ever have to use and it is not something you ever hope to, but I am glad I had it there for this unforgettable heartfelt experience.
Thank you Louisa and Daren for the incredible time and effort you put into training us volunteers and the work you do at Project Jonah, it really is a gift.