As a voluntary organisation we need your help.
We understand that as individuals, your support will come in many different ways.
We respect this, and are happy for you to contribute in whatever way you choose. We will do our best to fulfill your needs and give you a meaningful way to make a difference and take part, because we know that by working together we'll be able to achieve more than we could alone.
You can find opportunities to get involved on the tabs to the left or if you have an idea you'd like to discuss send us an email. On behalf of marine mammals everywhere, thank you.
Our strength comes from our volunteers; everyday kiwis that give up their time to help marine mammals through our rescue, action and protection programs.
Whether they're picking up litter on beaches or getting hands on in rescuing stranded whales, they're out there helping. Whatever the weather.
As a charity we could not survive without the support of others. People like you.
It's thanks to the help of our volunteers that we have achieved so much. And our future success lies with you.
We believe that everyone has something unique to offer and our volunteers come from all ages, ethnicities, occupations and regions of New Zealand.
There are many valuable ways you can contribute. We're always looking for volunteers to help with administrative tasks and data entry in our Auckland office or help with design and editing, research projects, event coordination, fundraising, the cleaning of equipment and a whole lot more. Length of opportunities can be anything from a few hours one off to 1 day to a week.
You may have many other ideas about how to get involved and make a real difference. If you'd like to become a Project Jonah volunteer, please get in touch, we'd love to hear from you.
No matter your age, use your talents to help raise vital funds to protect whales and dolphins.
Whether it's a bake-off, organised swim or shaving off your hair, there are so many ways to fundraise! The most important thing is to have fun, knowing your efforts will make a huge difference. Let us know what you're planning. We're happy to help out wherever possible to guarantee your event is a hit.
Here are some ideas to get you started:
Get active: Have friends or co-workers sponsor your participation in a 10k walk/run/bike ride (find listings for upcoming events here)
Eat well: Host a vegetarian barbeque or picnic in your neighbourhood park (with gold coin donation for participants)
Embrace your inner daredevil: Get friends to sponsor you bungee jumping or skydiving (even better if done in-costume)
Have a movie night: Host a home screening of a film that features marine mammals (we love Blue Planet, Ocean Giants, and Big Miracle)
Wear your onesie: Get the office or your class to dress up in theme with a donation asked to participate
Test your knowledge: Host a trivia night
Get your bake on: Challenge your office/class/peers to a creative bake off and auction off your creations to determine the winner
Get creative: Love painting art? Or making jewellery? create your own arts and crafts and sell them to raise funds.
Celebration with a difference: Instead of gifts to celebrate your special day (birthday, wedding etc.) ask your friends to make a donation to help protect New Zealand's marine mammals instead. Register your occasion on The Good Registry to get started.
Tips for Successful Fundraising
Set your goal
Once you've decided what your fundraiser will be, whether it's a bake sale or a personal challenge, you need to decide how much money you aim to raise. Aim high when setting your fundraising target. The higher the target, the more people will give! Once you've worked this out, set out your plan and your timeline.
Spread the word
Once you've decided what and when your fundraiser will be, tell everyone about it! The more people you tell, the quicker you'll reach your goal.
You can promote your fundraiser on Facebook and other social media.
Your local newspaper may be interested in hearing about your efforts too. Send them an email and let them know what you're doing and why.
Email your contacts
Often the most effective fundraising is a simple email to all your work colleagues, family and friends. Just tell people what you're doing and why.
Don't forget to always acknowledge and thank your supporters for their donations.
Note: Please make sure you have secured permission from any companies and/or individuals involved with your event (supermarket staff, venue managers etc.) to ensure a successful fundraiser!
Leave us a Gift in Your Will
A lasting legacy
By leaving a gift to project Jonah in your Will, however large or small, you can continue to play a vital role in the protection of marine mammals.
Making a Will doesn't have to be a difficult choice. After ensuring your loved ones are provided for, you can extend your generous support to the causes you've followed in your lifetime.
Your gift will help us to continue to care and protect these amazing animals and the oceans that they call home. There is so much left to be done. Help us to continue our work in the future.
Making your Will
We recommend that you consult a solicitor, Public Trust or a trustee company when making or amending your Will. This ensures that your Will is correctly drawn up and that your wishes will be carried out exactly as you intended.
If you already have a Will, you can still leave a gift to Project Jonah by simply adding a codicil to it.
Types of Gifts
If you decide to include Project Jonah in your Will you will need to decide which of the following types of gift you'd like to make:
Residual gift. We're extremely grateful for any legacies we receive; however the most valuable kind of gift to Project Jonah is a residual gift (i.e. a percentage of the net value of your estate after all debts, liabilities and other specific and pecuniary gifts have been paid). A residual gift ensures that your gift to Project Jonah doesn't de-value over time with inflation.
Pecuniary gift. The gift of a specified sum of money.
Specific gift. The gift of a specific item, for example, a property or shares.
Our promise to you
Deciding to leave a gift in your Will is amazing, thank you! We just couldn't do the work we do without your support, which is why we value your trust.
We are grateful that you are considering including a gift in your Will to Project Jonah. We understand this is a big decision, your family and loved ones will always come first and we respect that. Your decisions regarding your Will are personal and private. We will not share your bequest information with any other organisations and all correspondence will be dealt with in strictest confidence.
We will use your gift carefully so it achieves the greatest possible impact for the protection of whales and dolphins. Thank you so much for your support. Please email louisahawkes@projectjonah.org.nz for more information or call her on 09 302 3106 to discuss your needs.
Help Promote Our Marine Mammal Medic Courses
Can you help to promote our Marine Mammal Medic courses?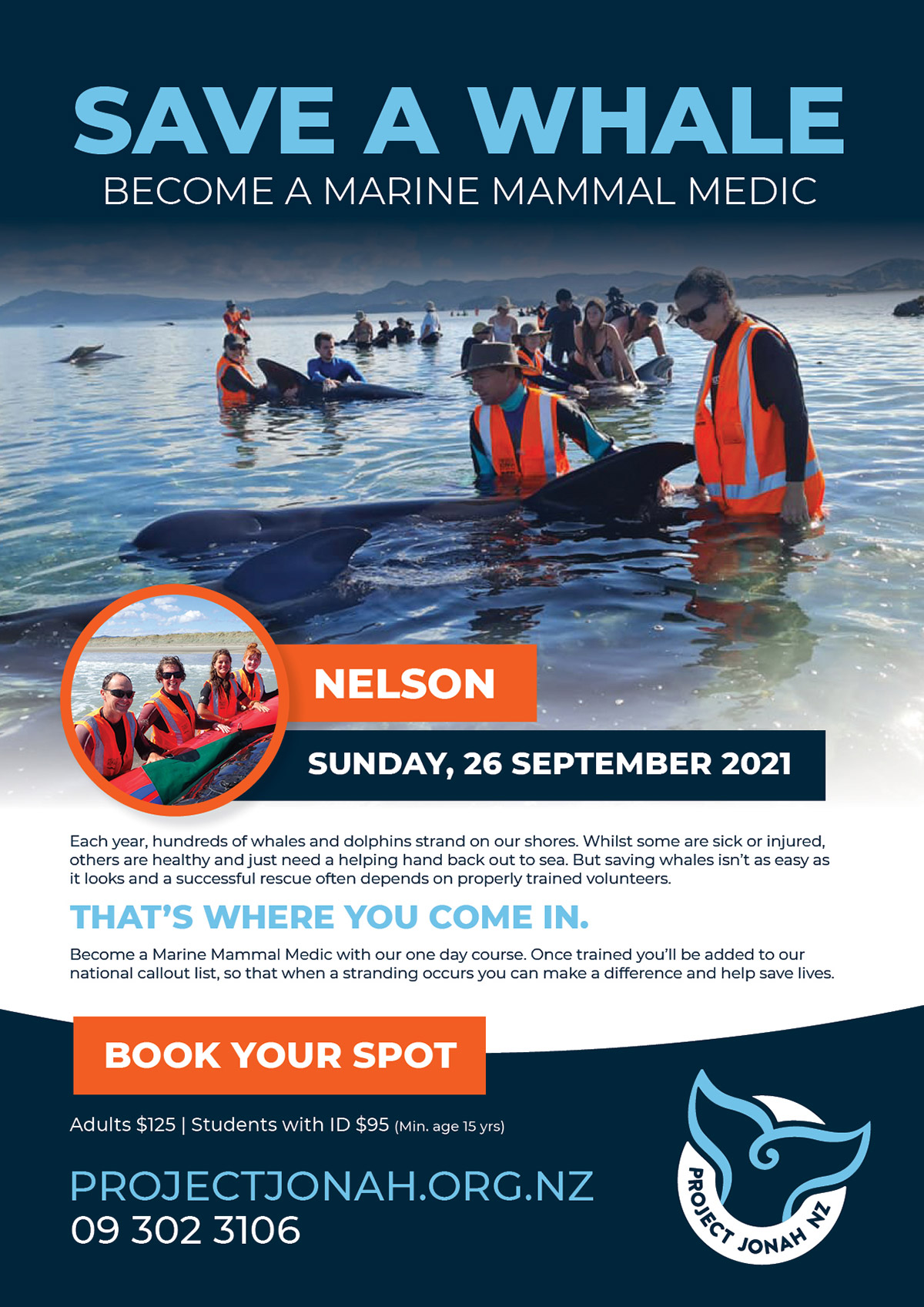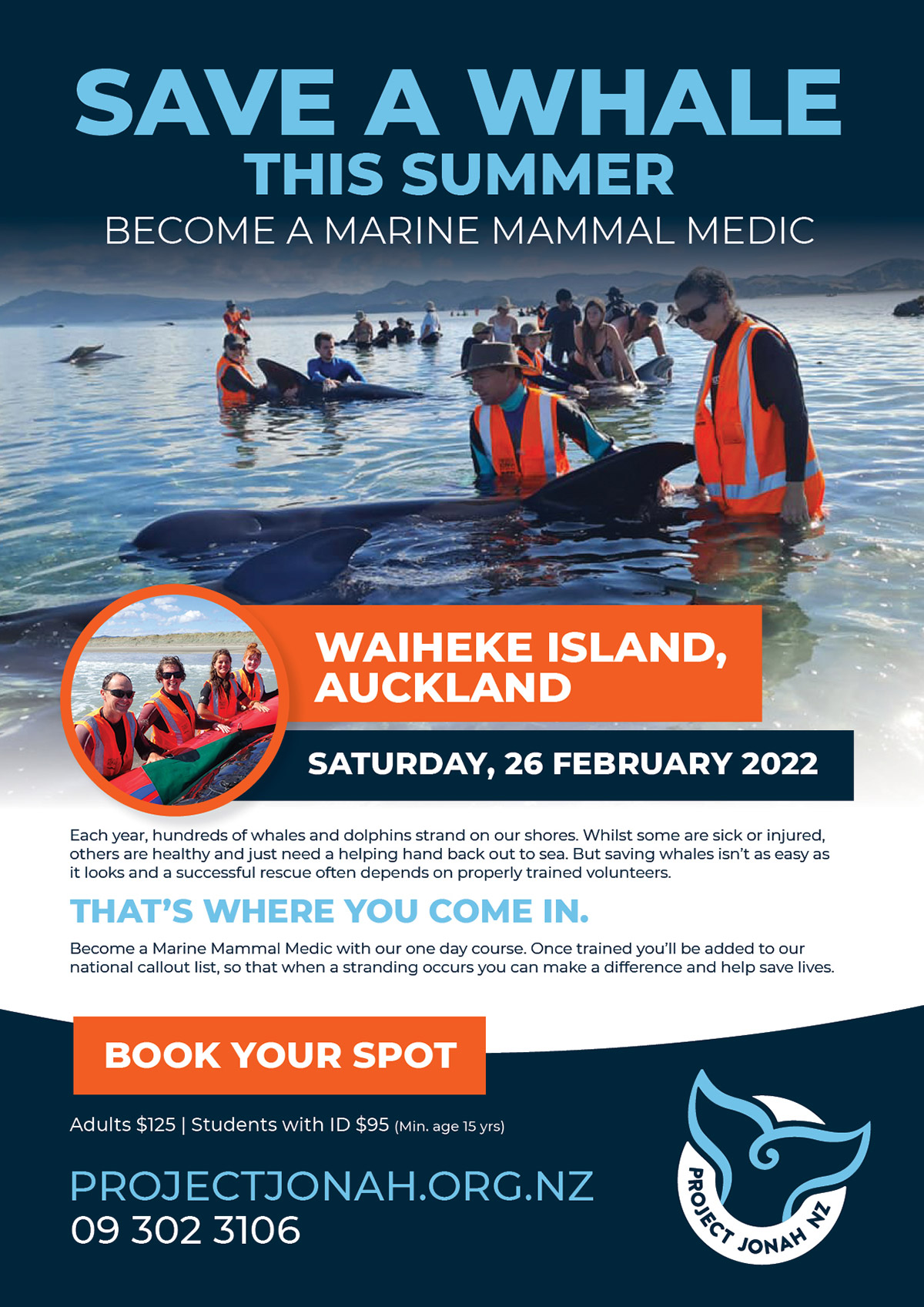 We want to train as many people as possible, up and down the country with the skills to save marine mammals. We've made flyers to put up on work notice boards, supermarket swap boards and coffee shop windows. Are you able to print a few off and get them displayed in your community?
The more people we can train, then the more medics we have to call on to help save lives when the next strandings occur.
Report a Sighting of a Rare Whale or Dolphin
Sightings of whales, dolphins & seals around New Zealand can help us learn more about these animals. The more we understand them, the better able we are to protect them.
Please record your sightings of the following marine mammals:
Southern Right Whales | Hector's & Maui's Dolphins | Beaked Whales
Take note of identifying characteristics. Some of the large whales can be identified by their blow, surfacing and diving characteristics. Use this chart as a quick reference guide to note important information.
If you see one of these animals, report it immediately. DOC will attempt to send a staff member out to verify your sighting as quickly as possible.
If you can, please photograph the animal.
If you are lucky enough to spot a whale or dolphin at sea, be careful to follow New Zealand regulations for interacting with marine mammals.
Info to give DOC
Date, time and location of the sighting (GPS coordinates if possible);
Number of dolphins and whales and whether any are calves;
Direction they were travelling; and
Your contact details
Quick ID Chart
Body length. Try comparing to the length of the boat
Body shape, colour and markings
Shape and markings of the flukes (tail)
Presence of a dorsal fin
Shape, size and position of the dorsal fin
Shape, size and position of flippers (pectoral fins)
Size, shape and colour of the head
Presence of a beak
Blow characteristics.  Height, shape and visibility of the blow
Presence of teeth or baleen
Surface behaviour, such as breaching or lobtailing
Dive sequence, from surfacing to disappearance
Southern Right Whales
Southern right whales were once hunted to the brink of extinction; and recovery for this species has been slow.
During the breeding season in winter and spring, southern right whales can be found in subantarctic waters around the Auckland and Campbell islands but there are occasional sightings of them around mainland New Zealand.
It's possible that the whales seen around New Zealand could be from a separate population to those found in subantarctic waters. If this is the case, it would make the population of whales visiting the mainland extremely rare and they could need even greater protection.
Maui's & Hectors Dolphins
Maui's dolphins, a sub-species of the hector's dolphin, are the world's rarest and smallest marine dolphins. These animals are critically endangered and are at great risk. Any new information about these animals will help scientists and government make decisions on how best to protect them.
Beaked Whales
Beaked whales are extremely rare. Their deep-diving habits, along with the difficulty of identifying them except at close range, mean that beaked whales are among the least studied and understood of all whales.